December 2021, Vol. 248, No. 12
Editor's Notebook
A True Chilling Effect
When the Supreme Court refused to stay a lower court decision that vacated a federal permit allowing Spire's STL pipeline to operate, it opened a door that could threaten natural gas supplies to residents during St. Louis' notoriously bitter winter.
Global News
Global News December 2021
German Regulator Stalls Nord Stream 2, Ida Reduced Gas Production More Than Any Hurricane in Past Decade, Israeli Energy Minister Proposes Ending UAE Pipeline Deal and more are included in this month's global headlines.
Government
FERC Punts on GHG 'Significance' Again
The Federal Energy Regulatory Commission continues to hesitate in determining whether greenhouse gas emissions from new pipeline projects are a "significant" contribution to climate change.
Projects
Michels Completes 15,000-Plus Foot HDD Crossing
Michels Completes 15,000-Plus Foot HDD Crossing, Turkmenistan Officials Discuss Work on TAPI Gas Pipeline, Russian Gas Flows to Germany Through Yamal Restart and more are included in this month's project news.
Features
Business
People in the News December 2021
Noack Plains All American appointed Dan Noack to the recently created role of vice president, Emerging Energy and Process Optimization and the formation of a cross-functional Emerging Energy team. Noack has more than 25 years of energy industry experience a..
Companies in the News December 2021
Texas Pipeline Operator Altus to Combine with BCP Raptor   Altus Midstream will merge with BCP Raptor, a holding company for  pipeline  assets in the Permian Basin, with the combined entity to be valued at $9 billion inclusive of debt.   The transaction allows BCP to go public and gives control of..
Associations in the News December 2021
O'Connell The  Interstate Natural Gas Association of America (INGAA) announced  that Maggie O'Connell has joined the organization as Director of  Security, Reliability and Resilience. Previously, O'Connell worked for the American Fuel and Petrochemical Manu..
Executive Profile
Meet INGAA's New Security Director
Maggie O'Connell is the new director of Security, Reliability and Resilience at INGAA. Her a background is as a policy analyst and regulatory affairs specialist.
Sign up to Receive Our Newsletter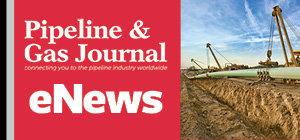 Pipeline Project Spotlight
Owner:
Gaz-System, Energinet
Project:
Baltic Pipe
Type:
Baltic Pipe will transport Norwegian natural gas from the Norwegian North Sea via Denmark to Poland.
Length:
560 miles (900 km)
Capacity:
110 Bcf per annum
Start:
Q2 2020
Completion:
Q4 2022