February 2012, Vol. 239 No. 2
Business Meetings & Events
February 2012 Ad Index
Advertisers from the print edition of <em>Pipeline & Gas Journal</em>, February 2012, Vol. 239 No. 2.
FMC Acquiring Control Systems
FMC Technologies, Inc. announced Feb. 17 that it has signed a definitive agreement to acquire Control Systems International, Inc. Terms were not disclosed.
PipeLine Machinery Opens Head Office In Houston
PipeLine Machinery, the pipeline-focused worldwide Caterpillar dealer, officially opened a new headquarters building adjacent to its equipment facilities just north of Houston on February 9.
Features
From the Burner Tip
Oil & Gas Activities Pay Double Dividend In Manpower Growth And Local Economics
U.S. oil and gas exploration and production have a primary goal of increased fuel supplies. But they have an additional benefit almost as good as the first – job creation and increased economic growth in the area. The new and increased liquids and gas production coming from the development of shale reservoirs have not only been a boon in energy resources but have immensely helped the economy in job growth and economic benefits to regions, including business and government.
In The News
Projects
TechNotes
New Lightweight Pig Passage Search And Track Device
Technology moves on but instruments to search, monitor, or record the passage of a pipeline pig have not kept up and are often very short on features and high on price. Some devices simply provide a means to view the strength of a 22-Hz signal and, perhaps, log a low-grade pig passage time.
Sign up to Receive Our Newsletter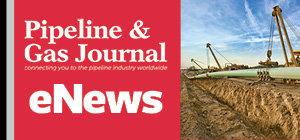 Pipeline Project Spotlight
Owner:
East African Crude Oil Pipeline Company
Project:
East African Crude Oil Pipeline (EACOP)
Type:
TotalEnergies in discussions with a Chinese company after Russian supplier Chelpipe was hit by sanctions.
Length:
902 miles (1,443 km)
Capacity:
200,000 b/d
Start:
2022
Completion:
2025