September 2018, Vol. 245, No. 9
Features
Editor's Notebook
Editor's Notebook
By Joe Hollier, Editor As a kid growing up most of my friends had dogs. They ranged from pure-breeds to mutts, but they were all regular house pets. My older siblings each had their own dog. Spartacus, a large black-and-tan coonhound, was my brothers, and my sister had a beautiful collie named Shaw..
Global News
Global News
Pipelaying for Ichthys LNG Project. (Photo: Inpex) Ichthys LNG Project Commences Production Japan's Inpex Corp. marked a key milestone in late July with the start of natural gas production from its giant Ichthys Field offshore northern Australi..
Projects
Projects
Enterprise Products to Expand Seaway Pipeline Capacity Enterprise Products Partners LP said on Wednesday it would expand its Seaway crude pipeline system capacity to about 950,000 bpd from 850,000 bpd. The partnership said it expects to add drag reducing agents (DRAs) to boost capacity on the Seaw..
Government
Government
FERC Pressed to Change Pipeline Approval Policies Interstate pipeline companies are fending off efforts by environmental groups to pressure the Federal Energy Regulatory Commission (FERC) to make significant changes to its 1999 pipeline certificate policy. Groups such as the Chesapeake Bay Foundati..
Company News
Companies in the News
Oil and Gas engineering consultants Xodus Group earned the Silver Corporate Partner Award presented by the Institution of Chemical Engineers (IChemE). The company received the recognition for its commitment to supporting engineers' professional development and advocating the profession to students t..
People News
Names in the News
Russell Audubon Companies, a provider of EPCM services, appointed Lyle Russell as senior business development representative for Capital Oil and Gas Projects, and Robert Guerrero as pipeline engineering manager. Russell has more than 24 years of business de..
Obituary: Donald Thorn
Donald Thorn Donald William Thorn, 69, died Aug. 3 at his home in Perrysburg, Ohio, where he lived with his wife of 45 years, Judy (White) Thorn. He had recently retired after a lengthy career in the pipeline industry. Thorn, a native of Vina, Ala., was born to William E. and Oniece W. (Lindley) T..
Matthews
Integrity Services Company NDT Global appointed Richard Matthews as its president.
Organization News
Associations in the News
The American Public Gas Association (APGA) promoted Erin Kurilla to vice president of Operations and Pipeline Safety. Kurilla joined APGA in October 2017 as the director for Operations & Safety in the Washington, office of APGA. She will replace John Erickson, who retired...
Tech Notes
Fluor Federal Petroleum Streamlines Emergency Response Technology
Fluor Federal Petroleum, the operations and maintenance contractor providing services to the U.S. Department of Energy (DOE) on the Strategic Petroleum Reserve (SPR) project, needed to find a way to streamline communications and save time when communicating with their employees, particularly in the event of a workplace emergency.
What's New
Sign up to Receive Our Newsletter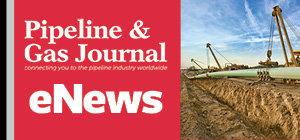 Pipeline Project Spotlight
Owner:
East African Crude Oil Pipeline Company
Project:
East African Crude Oil Pipeline (EACOP)
Type:
TotalEnergies in discussions with a Chinese company after Russian supplier Chelpipe was hit by sanctions.
Length:
902 miles (1,443 km)
Capacity:
200,000 b/d
Start:
2022
Completion:
2025