January 2021, Vol. 248, No. 1
Editor's Notebook
Happ(ier) Days Are Here Again?
Despite recent hard times, there is reason to believe relatively good news is around the corner for the midstream sector.
Features
Global News
Global News
Missile Attack on Saudi Distribution Plant Has Little Impact   Iran-aligned Houthi forces fired a missile that struck Aramco's North Jeddah Bulk Plant, authorities said, but Saudi Aramco said its domestic fuel supplies were not affected.    Abdullah al-Ghamdi, manager of the North Jeddah plant, sa..
Government
Army Corps on Hot Seat over Changes to Pipeline Approvals
With the arrival of the Biden administration and the ascension of environmental concerns to provide a spike in political pressure, the Army Corps of Engineers may have to rethink its proposed changes to the nationwide permits it issues for all sorts of dredge and fill construction activities around wetlands, including gas and water pipelines.
Tech Notes
Neptune Moving to 3-D for Integrity Detection
Neptune Energy announced a new partnership with 3-D technology specialist, Eserv, as part of the ongoing digitalization of Neptune's assets, including its operated Cygnus gas platform in the southern North Sea in the U.K.
Projects
Projects
Open Grid Europe Looks to Operate Gas Pipeline in March   Source: Zeelink Open Grid Europe is testing the recently completed $705 million (600 million euro) Zeelink gas pipeline with plans to make it operational, possibly as early as March 2021.   The 134..
What's New
What's New
HBM   Hottinger Brüel & Kjær (HBM) launched a new torque transducer, T40CB, featuring a central bore hole that makes it ideal for testing in confined spaces. This compact model, measuring a mere 1.9 by 2.1 inches (49 by 54 mm) in length has a central bore hole of 1.5 by 4...
People in the News
People
Freed EPIC Midstream Holdings appointed Brian Freed as CEO and director. He succeeds Phil Mezey, who remains on the board of directors as non-executive chairman. Freed has served as EPIC's president since July 2019. Prior to joining EPIC, he most recently s..
Companies in the News
Companies
NuStar Energy announced that it has closed on the sale of its terminals in Texas City, Texas, to BWC Terminals for $106 million. The companies first announced this sale in November.  For the second consecutive year, New Jersey Resources has been named one of America's Most Responsible Companies by ..
Associations in the News
Associations
 INGAA Foundation Elects Waller, Jorgensen as Chair, Vice Chair  Waller The INGAA Foundation's board of directors announced the election of Susan Waller, a long-time natural gas industry executive as the new chair of the organization.   Additionally, the..
Executive Profile
TPA's Cannon Tackles Coronavirus, Safety Issues
In his role as president of the Texas Pipeline Association (TPA), Thure Cannon spearheads the organization's advocacy on issues related to pipeline safety, environmental regulations, taxation and legislation for the state's pipeline industry.
Sign up to Receive Our Newsletter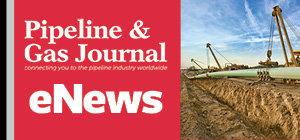 Pipeline Project Spotlight
Owner:
East African Crude Oil Pipeline Company
Project:
East African Crude Oil Pipeline (EACOP)
Type:
TotalEnergies in discussions with a Chinese company after Russian supplier Chelpipe was hit by sanctions.
Length:
902 miles (1,443 km)
Capacity:
200,000 b/d
Start:
2022
Completion:
2025