July 2022, Vol. 249, No. 7
Editor's Notebook
US Midstream and the Russia Factor
With much of the world shunning Russian energy as prices surge, the resulting systematic upheaval in dynamics has the potential to alter oil and gas supply trends and trade partnerships for years to come.
Government
Glick Renomination, Policies Become Converging Controversies
Some key decisions about federal pipeline regulation are coming to a head as the comment period for the Federal Energy Regulatory Commission's (FERC) two draft policy statements closed and the Senate decides whether to renew Richard Glick's chairmanship at FERC.
Features
Projects
Nigeria On Board with Morocco-to-Europe Gas Pipeline
Vaca Muerta Gas Pipeline Targets 25% Capacity Growth, Much-Delayed Iran-Oman Pipeline Project Back on Track, 105-Mile Genesis Deep-Water Pipeline Expected by 2025, UGI to Fully Fund for RNG Projects in South Dakota, Nigeria On Board with Morocco-to-Europe Gas Pipeline and more.
Tech Notes
Digitized Testing System Takes Flight
IMA Materialforschung und Anwendungstechnik GmbH (IMA) boosted its testing capabilities with an all-digital measurement and control chain that automates shell testing.
DNV to Evaluate Use of Hydrogen in Czech Republic Pipeline
DNV, an assurance provider, has been asked by NET4GAS, the international gas transmission system operator based in the Czech Republic, to evaluate the hydrogen suitability of an existing DN 1400 pressure natural gas transmission pipeline and related stations.
Sign up to Receive Our Newsletter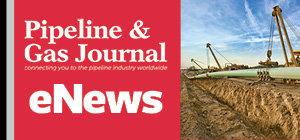 Pipeline Project Spotlight
Owner:
East African Crude Oil Pipeline Company
Project:
East African Crude Oil Pipeline (EACOP)
Type:
TotalEnergies in discussions with a Chinese company after Russian supplier Chelpipe was hit by sanctions.
Length:
902 miles (1,443 km)
Capacity:
200,000 b/d
Start:
2022
Completion:
2025