March 2016, Vol. 243, No. 3
Editor's Notebook
PG&E: A Company That Has Seen the Light When it Comes to Safety
In these times when we as a society and as an industry are surrounded by blatant insults, public tantrums and overdone political correctness, it's refreshing to know there is a company that's doing something the right way. Pacific Gas and Electric Co. has not always done things the right way. It's ..
Features
General
Government
FERC Investigates Possible Overcharging at 4 Pipelines
It is not unprecedented for the Federal Energy Regulatory Commission (FERC) to investigate potential overcharging at pipelines, as it announced it was doing in January. But it doesn't happen frequently, just three other times since 2009. The agency announced Jan. 21 that it will initiate Natural Ga..
Liquid Pipeline Safety Proposal Criticized from All Sides
Reaction to the PHMSA's proposed rule (NPRM) to tighten liquid pipeline safety regulations has run along predictable lines. The pipelines think the proposal is too expansive and expensive. The environmental community and some notable safety experts believe the Pipeline and Hazardous Materials Safety..
In The News
Projects
Q&A
Q & A: We Can Win This, John Davies Tells Oil & Gas
John Davies, CEO and chairman of California-based Davies Public Affairs, warms to challenges, and that's good news for the beleaguered energy industry which needs an eloquent and forceful advocate who can speak to the public. Davies has been active throughout the U.S. as a speaker at numerous confer..
TechNotes
Web Exclusive
What's New
Sign up to Receive Our Newsletter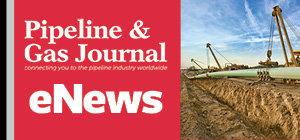 Pipeline Project Spotlight
Owner:
East African Crude Oil Pipeline Company
Project:
East African Crude Oil Pipeline (EACOP)
Type:
TotalEnergies in discussions with a Chinese company after Russian supplier Chelpipe was hit by sanctions.
Length:
902 miles (1,443 km)
Capacity:
200,000 b/d
Start:
2022
Completion:
2025