August 2018, Vol. 245, No. 8
Features
PPSA 2018 Pigging Update
Editor's Notebook
A New Mexican Administration: Taking Action
As the new administration offers additional insight into its policies, it appears that Mexico will continue to offer a business-friendly environment when Andrés Manuel López Obrador takes office as its new president on Dec. 1.
Global News
Global News
Cushing Bottleneck Could Increase U.S. Oil Discount WTI prices have already been depressed at Midland, Texas, as surging Permian Basin production overtakes pipeline capacity to Gulf Coast markets.  Now, oil traders and analysts are concerned that an emerging bottleneck at the key storage hub in Cus..
Projects
Projects
Tunnel, Trench Offer Options for Replacing Pipeline   A 65-year-old pipeline that carries crude oil beneath a waterway connecting two of the Great Lakes could be replaced with pipes buried in a tunnel or partially enclosed in trenches that would pose virtually no risk of leakage but require years ..
Government
Government
By Stephen Barlas, Contributing Editor, Washington Trump Wants Orders Delaying Coal, Nuclear Plant Closings Energy Secretary Rick Perry is taking a second bite of the apple as he prepares recommendations requested by President Trump aimed at delaying retirement of electric generation facilities wh..
Company News
Companies in the News
Aerial view of The Underwater Centre Subsea training and trials facility The Underwater Centre, located in the Scottish Highlands, has secured funding from industry and public bodies and will begin operating as a not-for-profit company. The rest..
People News
People in the News
Koos-Jan van Brouwershaven as chief executive officer, and Wijnand Tutuarima will joined its Board as chief financial officer. Van Brouwershaven comes from sister company Heerema Fabrication Group (HFG), where he was chief executive officer, a position he will retain. Ralph Wu was named Trelleborg'..
Tech Notes
Activity Monitoring for Damage Prevention, Risk Reduction
A big goal of transmission companies is to reduce risks and improve the safety of affected communities through an integrity program that ensures construction quality of the pipeline, monitor the longevity of pipeline materials, educate the public, and apply damage prevention systems to avoid third-p..
Norwegian Company Finds Corrosion-Resistant Plastics Meet Challenge
An offshore drilling company from Norway is using energy chains from igus to help provide a reliable power supply under extreme conditions for automated drilling operations on platforms. Robotic Drilling Systems AS in Stavanger, Norway – a central city in the European oil industry developed robots ..
What's New
Sign up to Receive Our Newsletter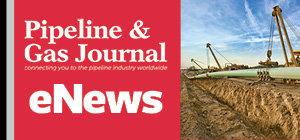 Pipeline Project Spotlight
Owner:
East African Crude Oil Pipeline Company
Project:
East African Crude Oil Pipeline (EACOP)
Type:
TotalEnergies in discussions with a Chinese company after Russian supplier Chelpipe was hit by sanctions.
Length:
902 miles (1,443 km)
Capacity:
200,000 b/d
Start:
2022
Completion:
2025