May 2009 Vol. 236 No. 5
Business Meetings & Events
Features
Government
Ernst & Young Creates Analytical Tool To Examine Effects Of Federal O&G Tax Law Changes
An analytical tool has been crafted by Ernst & Young LLP to help clients quantify the effects of changes to oil and gas tax law that have been proposed by the Obama administration in the draft budget for fiscal year 2010 and in draft legislation, the "Oil Industry Tax Break Repeal Act of 2009," filed in April 2009 by Sen. Charles Schumer (D-NY).
PHMSA Worries About Pipeline Safety
Six months after giving pipelines the green light to use high-stress pipelines more widely, the Pipeline and Hazardous Materials Safety Administration (PHMSA) is now highlighting safety concerns with new pipelines operating at 80% of specified minimum yield strength (SMYS).
Senate Bill Worries Pipeline Industry
The pipeline industry is worried about a new Senate bill which gives FERC wider latitude to award rebates to customers who the agency finds have been subject to unfair rates.
In The News
CITGO Corpus Christi Wins Second Prevention Award
Officials with CITGO and the Texas General Land Office (TGLO) are shown during the presentation of the 2008 Oil Spill Prevention Response Award won by the CITGO Corpus Christi Texas Refinery for the second consecutive year.
Projects
TechNotes
Web Exclusive
Deepwater Granted Mexican Patent for CP Mat
Deepwater Corrosion Services reports that, on March 4, 2008, the company's pending Mexican patent for the CP Mat ( Stabilizer With Cathodic Protection) was granted. With the receipt of patent number 130524.2002, the company says CP Mat is now patented in both the U.S. and Mexico.
What's New
Sign up to Receive Our Newsletter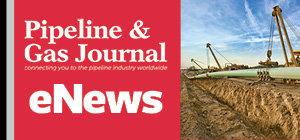 Pipeline Project Spotlight
Owner:
East African Crude Oil Pipeline Company
Project:
East African Crude Oil Pipeline (EACOP)
Type:
TotalEnergies in discussions with a Chinese company after Russian supplier Chelpipe was hit by sanctions.
Length:
902 miles (1,443 km)
Capacity:
200,000 b/d
Start:
2022
Completion:
2025